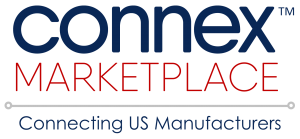 CONNEX Marketplace is the National solution for connecting the U.S. manufacturing supply chain, bringing every manufacturing sector together under one platform. It quickly gives access to hundreds of thousands of buyers and suppliers into the hands of manufacturers.
Using search and filter functionality such as equipment, capabilities, services, certifications, SBA distinctions, location, and so much more, manufacturers are able to locate necessary materials and supplies, while buyers find qualified manufacturers.
CONNEX is tightly integrated with local and regional Partner Networks that support manufacturing. These include: NAM, NIST MEP, State Manufacturing Associations, State MEPs, 100+ state and regional associations, and many others such as Economic Development Offices, Chambers of Commerce and more!
The combination of an extensive partner network and robust search functionality makes CONNEX the deepest database search platform available.
"A POWERFUL SEARCH RESOURCE HELPING MANUFACTURERS IN AMERICA COMPETE AND CREATE JOBS IN THE UNITED STATES.
This one-of-a-kind tool empowers manufacturers of all sizes, both buyers and sellers, to be found, increase supply chain optimization and mitigate risk. It's a game-changer for U.S. manufacturers."

— JAY TIMMONS, PRESIDENT AND CEO,
National Association of Manufacturers (NAM)
i5 Insight dashboards provide highest level summary views to lowest level detail in 3 clicks or less. They are built to work with existing applications and are configured to provide actionable and predictive information to decision makers.
"i5 Services has literally helped me change my business! I cannot overstate how important the dashboard and drill down metrics have become to my company. Not just that we have them, but that they are visual, easy to understand and automated!"

—RICH MARKER, PRESIDENT AND OWNER
All Metals Fabrication
In government, we have built applications for the US Department of Transportation that have cut months of time off of large acquisitions in procurement and new hires in human resources. We built these user-friendly, secure solutions using a powerful combination of lean principles to streamline processes and agile principles to develop technology to fit the streamlined processes.
Download our capabilities sheet and white paper to learn more.
Monitoring

Evitar means 'to prevent'. i5 Services' transaction monitors prevent loss. Configured to monitor daily transactions and optimized with learning logic they are the protection no business should be without. Current prevention monitors available:
Duplicate payment
Cash discount
Fraud
Accounts Receivable
Discounts and promotions
Statement
Training
According to Inc. Magazine:
Unproductive meetings cost companies in the US $37 Billion each year
It is estimated that there are 25 million meetings per day in the US
Middle managers spend 35% of their time in meetings and upper management spends 50%
15% of an organizations time is spent in meetings each year and that number increases each year
Executives consider more that 67% of meetings to be unproductive
If you consider that the average salary is about $46,000, that translates to roughly $7k per employee being spent in meetings and roughly $5k of that wasted (other figures estimate this number to be as high as $10k-15k).
This means that we are losing somewhere between $50-$150k for every 10 employees in our company. We recently trained a company with less than 30 employees and they estimated they were losing over $250k per year in unproductive meetings. After our training not only were they able to recapture that loss but employees reported higher engagement.
Just a few of the questions we answer:
How do I get someone to attend the meetings I schedule?
How do I keep a meeting from going off track?
What do I do about the person who is always taking over the meeting?
What do I do about those who are multitasking or who are not engaged?
What the training provides:
Pre-training planning and preparation with sponsor and key stakeholders
2-hour training session
Templates and forms
Post-training reflection with sponsor and key stakeholders